How to Make Fresh Florida Lobster Rolls - Florida Lobster Roll Recipe




For a special refeshing treat, try making a quick and easy lobster roll for a quiet afternoon lunch or an interesting twist on what to serve at your next family get together. Lobster rolls are fresh, easy and quick to prepare with few ingredients. There are basically two well-known versions of the lobster roll which is simply a lobster sandwich typically served on a hotdog or hoagie style bun. The version most popular in Connecticut is just lobster chunks smothered in butter or garlic butter. The mayonnaise or salad based roll is more common in Long Island and Maine. Both are said to have been created in the early to mid-20th century. So, although the tradition of lobster rolls does not have a long history, they continue to be one of the most popular meal items on the eastern shores.

Follow the step by step instructions in this Youtube video.

Prep Time: 10 Minutes Cook Time: 20 Minutes for lobster tails Yield:

4 Large Lobster Roll Sandwiches

Recipe Preparation: Prepare and cook Lobster tails in oven or on the grill with butter and minced garlic. Be sure that lobster meat is white and shells are red in hue. Check out this lobster tail recipe for more details. Ingredients for Lobster Roll Salad:

6 Florida Lobster Tails cooked

4 Fresh Cuban or French Hoagie Rolls toasted with butter

3/4 Cup Finely Chopped Cilantro

3/4 Cup Finely Chopped Scallions

3/4 Cup Finely Chopped Celery

1/2 Cup Greek Yogurt

3 Tablespoons Mayonnaise

2 Tablespoons Lemon Juice

Salt & Pepper to Taste

Instructions: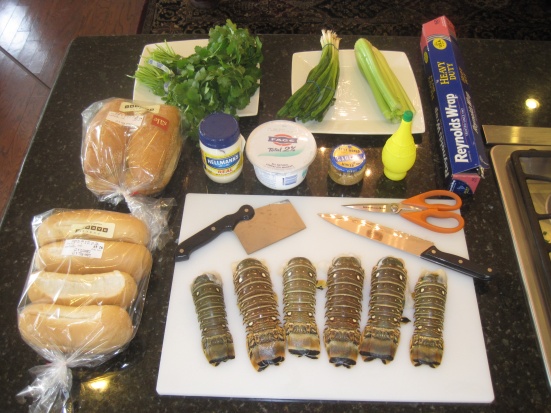 Remove the lobster meat from the shells and roughly chop into bite-size chunks. Chop cilantro, scallions and celery and pour into mixing bowl. Add lemon juice, yogurt, and mayonnaise. Mix thoroughly. Add more yogurt if needed to reach desired consistency. Add salt and pepper to taste and serve on freshly toasted hoagie style buns.