How to Cook Lobster Tails - Baked or Grilled





Whether you are cooking Florida Spiny lobster tails or Maine clawed lobster tails, the preparation and cooking times are the same. Cooking lobster tails can be simple and easy in the oven or on the grill. This can be done with fresh or frozen lobster tails. If you are using frozen tails, be sure they are fully thawed before preparation.

Prep Time: 5 Minutes Cook Time: 20 Minutes Yield:

1 Lobster Tail per person

Preheat oven to 350 F or grill to medium high. Ingredients:

1 Florida Lobster Tail

1 1/2 Tablespoons Butter

1 Tablespoon fresh minced Garlic

1 12x12 piece of heavy aluminum foil

Instructions: Cut the tails lengthwise from top to bottom. Remove the swimmerets and any sharp edges from the shell. Layout the 2 halves of the lobster tail on a 12x12 inch piece of heavy aluminum foil. Generously cover with fresh minced garlic and butter.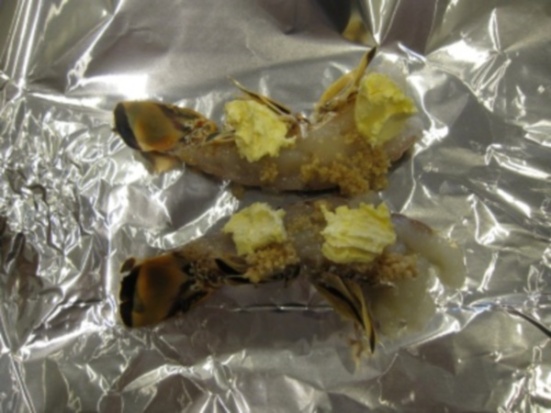 Tightly close the foil packet and place on the grill or in the oven at 350F. Average cooking time for a lobster tail is 15-20 minutes on med-high for the grill and about 350F in the oven.