SeaLife AquaPod Handheld Extendable Waterproof Boom Monopod Review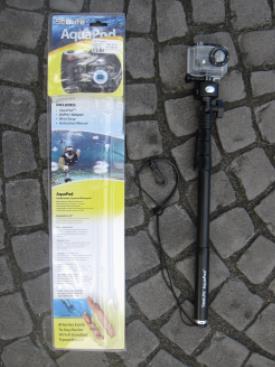 Features:

Compact & Lightweight 9oz (250 grams) Extendable 18"- 53" (455mm - 1350mm)
Fits in Standard Carry on Suitcase
Fits both GoPros and Cameras with Standard 1/4-20 Tripod Screw Mount.
Quick Release camera Mount.
Built-in Self Image Mirror
Airplane Grade Aluminum Body
Stainless Steal Hardware
Rubberized Grip Handle
Includes:
AquaPod Extendable 18"- 53"
Wrist Strap with Clip
GoPro Mount
Standard 1/4in.-20 Tripod Screw Mount.
Buy The SeaLife AquaPod at Amazon

I've been looking for a good waterproof handheld boom/monopod for my GoPro for a while now. In the past I've mounted my GoPro to a ski pole with limited success. When I would try to attach it to the ski pole using a handlebar seatpost mount, I would have to mount it a third of the way up the pole. The reason for this was because the tapered nature of the pole where the end was too narrow to secure the mount. The problems with this was that after any type of active use, the mount would start to slip down the pole. The SeaLife AquaPod on the other hand was created for just this application. Although it can be used as a monopod, it's real value is that of a hand held boom-style camera mounting pole that lets you properly frame and photograph yourself in and out of the water. I plan on using this not only diving, but also for skiing and other activities where I want to record my self. At first glance I thought that the MSRP of $69.95 was high; however after doing some research on the cost and quality of other hand held boom-style monopods, I think the SeaLife AquaPod is definitely worth the money.

The AquaPod at it's shortest length is 18 inches which can easily fit in standard carry on luggage. I can even fit it into my laptop bag. Depending on your grip and the type of camera you use he camera's lens is about about 11 inches from the end of your hand when pointing at your self. Fully extended the lens is about 45 inches from the end of your hand. With my arm fully extended in front of me, it puts the lens of my GoPro about 70 inches away from my body.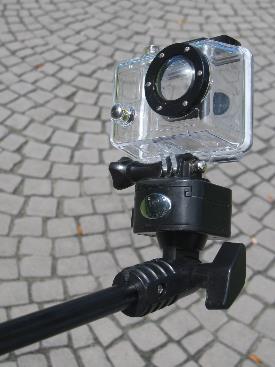 The construction of the AquaPod seems to be very well done. I've taken it on several salt water dives and so far it shows no signs of significant wear or corrosion. The pole it's self is made of aviation grade aluminum with stainless steal hardware. Unlike some poles that are completely round, this one has two channels along the entire shaft so that the pole will not twist. Also unlike many other boom style poles that you twist to lock into place, this pole uses a locking mechanism that gives its a secure and tight fit. Even when fully extended, the AquaPod is very stable and wiggles a lot less than I would have thought. When fully extended out of the water the camera can become a bit heavy, but this is due to physics and no way reflects upon the AquaPod it's self. When you are in the water, you barely notice the weight. The rubber grip is good and keeps it from slipping in your hand. A nice extra touch is the included locking wrist strap and clip. When I dive I attached this to my BC with the clip until I'm ready to use it. Once I begin to use it, I tighten the adjustable locking wrist strap around my wrist and I don't have to worry about losing it. This is important to me, as I have lost two GoPro head mounted units.

If you are looking for a boom style monopod, I would highly recommend the SeaLife AquaPod. Although the MSRP of $69.95 may seem like a lot of money, I found that the construction and utility of the pole made it well worth the price.


| | |
| --- | --- |
| | |

How to Catch a Florida Lobster

There are numerous way and techniques to catch a Florida Spiny lobster. I will go over a few of the ways I do it. Before you attempt to catch a Florida lobster, you need to understand their behavior.
read more...