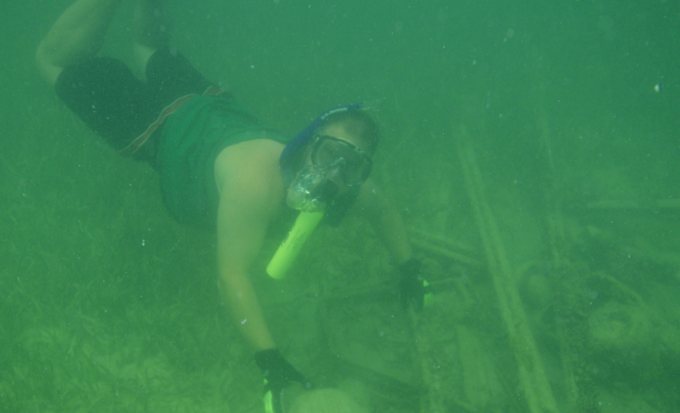 Spare Air Review
One of my favorite new pieces of equipment that I brought along for the 2009 lobster season was the Spare Air . Normally used in rescue situations, it lends itself well to lobstering and other quick trips underwater. Often, when I spot a couple of lobsters in 10-15 feet of water, I don't want to have to go through the ordeal of putting on my scuba gear. It can take several minutes to get completely geared up, and unless there are a ton of lobsters, it's just not worth the effort. This is where the Spare Air is useful. With 3 cubic feet of air, it lasts for 2-5 minutes which is plenty of time to scoop up a couple of lobsters.

One of the really cool features of the spare air is that you can fill it with a standard scuba tank using the provided refill adapter. Hooking up and refilling the tank is a snap, as it takes only about one minute. Surprisingly, another one of the great features is the color. I brought a couple of less experienced friends along, and one of them accidentally dropped the tank into the water. With a lot of gear, it could have been lost; however, with the bright color, I was able to dive in and retrieve it without a problem.

For normal dives, you can't overlook the importance the extra layer of safety a spare air provides. Having the spare air as a third line of defense after your gear and your dive buddy is critical. It is not unusual to dive into murky water and lose sight of our buddy. The vast majority of the time, it's not a big deal, and we find them; however, if an emergency were to arise, I would feel much safer knowing that I had my Spare Air.

With all the positive attributes of the Spare Air, I can confidently say that it's a great product. I would recommend the Spare Air to anyone!





How to Catch a Florida Lobster

There are numerous way and techniques to catch a Florida Spiny lobster. I will go over a few of the ways I do it. Before you attempt to catch a Florida lobster, you need to understand their behavior.
read more...